We drove into Sanliurfa on a small and crowded public bus. Every seat was occupied and people were squashed together while standing in the aisle. Everyone was chatting, staring straight ahead or at this foreigner sitting in their presence.
I ignored the stares because I could not make any more of an effort to blend in. I stood out and had to accept it. Instead, I focused on the sights that whizzed past as the bus followed its scheduled route and something was wrong. As I stared out of the window, Urfa was slowly disappointing me.
About Sanliurfa, the City of Abraham
In everyday conversations, Sanliurfa is shortened to Urfa. The extension of the name happened in 1984 to recognize the part that Sanliurfa played in the Turkish war of independence and Sanli means glorious. Although not popular as a holiday destination for foreigners, it is popular with Muslims because the town is thought to be the birthplace of the prophet Abraham (the same Abraham who was a patriarch in Christianity).
A important attraction within the town is the carp filled fish pool (Balikli Gol), also believed to be the place where Nimrod threw Abraham into the fire.  God changed the flames into water and the wood into fish to protect Abraham.
The connection with Abraham and the Arabic influence is what I had traveled to the city to see. Instead, I saw a modern city with high-rise buildings, congested traffic and no historic landmarks. Where were the landmarks that earned it the nickname as the city of Abraham with strong roots in Islam and Christianity?
I knew there was no possibility that we caught the wrong bus. I sighed as my hopes of enjoying Urfa drained.
However, I loved Sanliurfa so what changed?
My severe criticism of Urfa was made in haste but it was a simple mistake. None of the guidebooks mentioned there was new Urfa and old Urfa.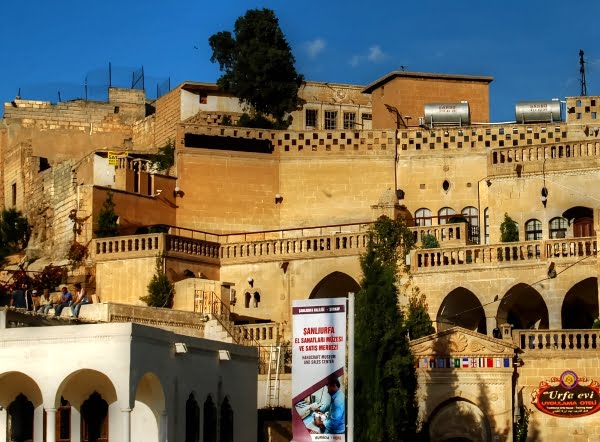 Once we drove into the old part of the city, things went from bad to fantastic. Full of historic landmarks, buildings with Arabic influenced architecture and of course, the connection to Abraham.
This is what I was looking for
We arrived at the hotel and the manager was waiting for us. He said there were no other bookings so they wanted to change us to the sister hotel. This turned out to be a blessing as the new hotel was of a higher quality and had amazing Arabic décor.
We were given a room with a view of the castle and the new hotel actually served alcohol! As it is a strong Islamic city, alcohol is not widely available in Sanliurfa apart from some  establishments where women trade favors for money. Drinking an ice-cold beer in a gorgeous hotel was more fun than battling through crowds of perverts in seedy back street bars.
Things got even better…
By now, my mood had improved but things were going to get even better. Everything to do in Urfa was within five hundred meters of our hotel. The only time we hired a car was to see the beehive houses of Harran on the outskirts of the city. The famous fish pool (Balikligul) and the cave of Abraham took just ten minutes' walk to reach. I sat and watched as Muslims visiting the site paid great homage to the prophet of Abraham.
I always knew that Islam and Christianity had a connection through the Virgin Mary but it was a surprise to learn that Abraham also connects two of the world's most popular religions.
I am not a religious person but to visit a site respected by both religions makes me realize that most people are similar despite our beliefs; we just do not like to admit it.
My Tip about Sanliurfa
Surrounding Urfa is the neighboring provinces and cities of Gaziantep and Mardin. If you can, visit all three but if you are struggling for cash or time, drop the other two and go to Urfa.
Now, the hard-core fans of the historic city of Mardin are probably going to curse me for saying that. The city is sitting on the list of UNESCO world heritage sites, waiting for approval and fans insist that Mardin is one of the must see places in the south east of Turkey.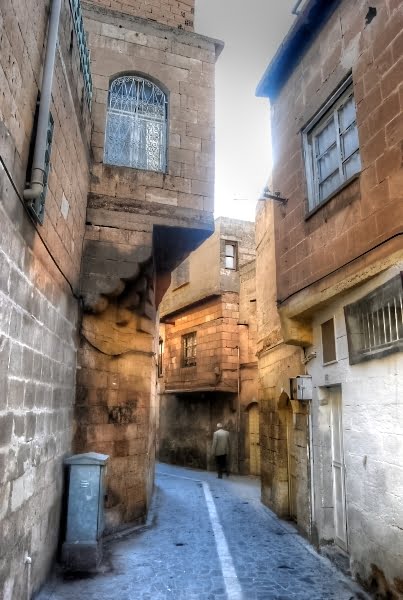 For me, Urfa is a far better place for historic value, friendly locals, culture, and customs. I loved exploring the narrow backstreets and watching the locals.
Despite making bad assumptions at the beginning, I loved Urfa and was very sorry to leave.
[wp_geo_map]
Save
Hi. I'm Natalie, a freelance travel blogger and writer specializing in the country of Turkey. I love hot summer days, historical sites and coffee.