Like many other small villages of Turkey, Mustafapasa in the central Cappadocia region of Turkey is steeped in Greek Orthodox history, specifically the Ottoman years before the Turkish War of Independence in the early 20th century, when Turks and Greeks lived side by side in harmony.
Stories of the ethnic groups residing together throughout Turkey are told extensively by author Giles Milton, who featured Turk, Greek, Armenian and Jewish communities of Izmir, or as it was then known Smyrna, in his novel history book "Paradise Lost".
The ghost village of Kayakoy on the Mediterranean coast of Turkey was also the setting for Louis de Bernières novel, Birds Without Wings in which romance crosses the ethnic divide between a Greek girl and Turkish boy.
Walking around Mustafapasa, that was previously called Sinasos (meaning city of the sun), apart from a few locals gathered in tea shops and in the town square, everyone else I looked at was a tourist, either part of my group or from one of the large tour buses that do fleeting visits through the region. Yet it was not hard to spot the Greek influence, namely in the houses and in the Church of Saint Nicholas.
Saint Nicholas Church of Mustafapasa
I was on a group tour and we were allocated free time to explore, so I headed straight for the small church, opposite the town square. The iron door entrance flanked by three archways sat below three symmetrical windows covered with iron bars.
Directly above the door was an inscription, and since it was not in Turkish, I assuming it was Greek of which I don't understand so my curiosity had to take a back seat as I walked through the doors into a large hall with a vaulted ceiling, typically of many churches throughout history. Its small size required no more than 10 minutes to explore and admire so I headed onto the streets to see what I could find.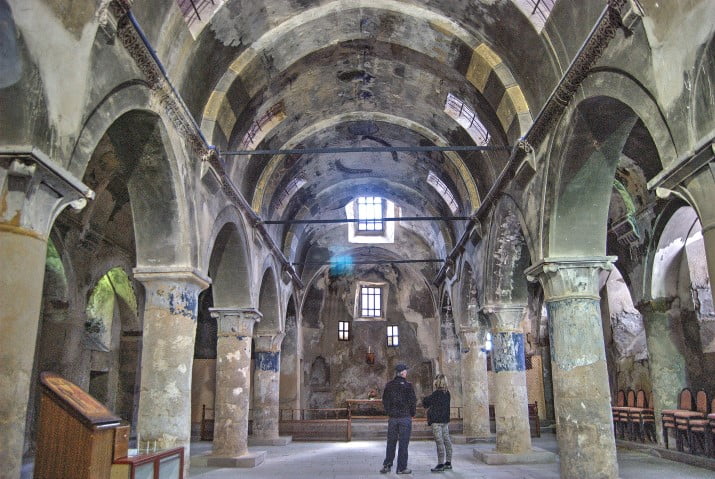 Greek Houses of Mustafapasa
Passing by a shop owner, who was insistent that his souvenirs warranted my undivided attention, the architecture of the houses, sitting on deserted streets turned out to be even more intriguing than the church.
No disrespect to Turkish architecture but they were more uniformed, pleasing on the eye and instantly reminiscent of a Mediterranean lifestyle. Apparently some date from the 19th and 20th centuries, although I suspect they have been extensively renovated to keep up their original appearance. Oh, what I would have given for the chance to look inside them.
Apparently Mustafapasa has a renovated hotel that was once made popular because it was the setting for a Turkish soap opera. Maybe one day, I will return and stay 3 or 4 nights because there is still so much more to see and I can get to know the elderly locals and their stories. I've have an overwhelming hunch that their lives, would make a marvellous plotline for a book.
Save