Laodicea was one place that I wanted to visit in Aegean, Turkey. The city was one of the Seven Churches of Revelation mentioned in the New Testament of the Bible. In its prime, Laodicea was an extremely profitable trade centre that did exceptionally well in wool because nearby plains provided sheep with ample grazing food.
Turkey has a solid Biblical history that any hard-core Christian would be a fool to ignore, and slowly over my travels around Turkey, I learned about the roles of Saint John and Paul in this country at those times. Saint John wrote the letters of revelation, also known as the Apocalypse and sent them to all seven Roman churches, praising what they did well and where they could improve. Ephesus and Laodicea also received one. Despite their names of churches, the letters referred to ancient cities and Christian citizens within them.
I looked into Laodicea several years ago but delayed plans since transport seemed ad-hoc, and not many tour providers in Turkey mention Laodicea on their itineraries. So imagine how delighted I was when travelling back from Pamukkale in Denizli; my tour guide casually asked if we should go to Laodicea.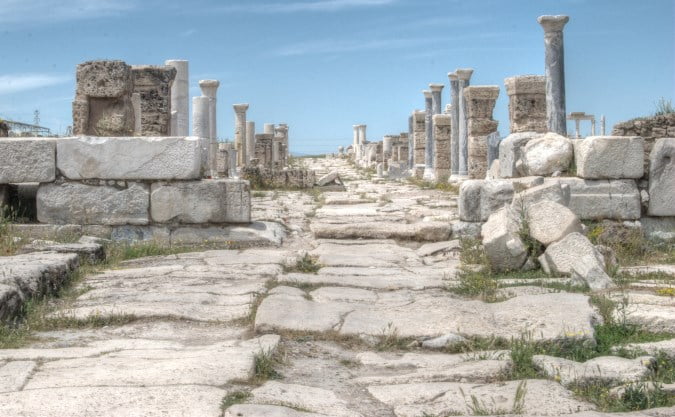 "Of course, I want to see Laodicea ancient city. Let's go, let's go," I excitedly responded. I didn't know Laodicea was just a short distance from Pamukkale, and except for a few independent travellers, no one else was there! So walking around a virtually empty Church of Revelation with my walking history guide made me feel super important!
History of Laodicea in Denizli Turkey
Laodicea's ancient origins date from the Hellenistic era, and my local Denizli guide said that six critical factors determined where to build a city in those days.
Is the land on a trade route?
Plains for farming and agriculture
A hill for good defence
Water sources
Stones to build the walls and houses.
Good air circulation. (To decide this, they would hang a baby goat and skin it. If flies swarmed around, the air was unpure.)
Roman Laodicea had all these, and the citizens were filthy rich because of good connections with other cities and positions on trade routes. Yet, words from Saint John were harsh.
Letter from Saint John to Laodicea – (Revelation 3:15–16)
"I wish that you were cold or hot. I know thy works, that thou art neither cold nor hot: I would thou were cold or hot. So then because thou art lukewarm, and neither cold nor hot, I will spue thee out of my mouth. For you say, I am rich, I prospered, and I need nothing, not knowing that you are wretched, pitiable, poor, blind and naked."
John refers to their great wealth and the tepid, lukewarm spring waters flowing into the city from the nearby sources at Pamukkale. However, ancient Laodicea was only one of the churches that didn't receive a message of compliment from Saint John. Instead, accusing them of sitting on the fence and not dedicating themselves 100% to Christianity, they would later become hard-core advocates of the religion.
Visiting Laodicea Today
May was the ideal time to visit the area since vibrant red poppies sprouted from the ancient ruins. We walked the agora (Market Street) stadium. We saw the nymphaeum, used to supply fresh water, and dedicated to nymphs, an entity of Greek mythology referring to divine female spirits connected to nature. (See! I did pay attention to what my Turkish guide told me.)
The Temple of Athena
According to newspaper reports, archaeologists only discovered the temple site in 2012. Yet, if genuine, they completed a remarkable amount of excavation work. I walked seven stone stairs flanked by four large columns, leading me to the interior with no roof or walls.
Instead, we stood on a glass platform covering the original layout and stones. It was hard to see the structures and buildings below, but a marvellous view of what seemed like snow covering the hillside appeared in the distance. It was the white travertine pools of Pamukkale in Aegean, Turkey.
The End of Laodicea
Some sources say an earthquake in the 4th century marked the end of a lucrative timeline for the city. In contrast, others say Turks and Mongols invaders in the 13th century destroyed the Laodicea site. Either way, experts predict, only a fraction of Laodicea is uncovered. So watch for news on Turkey, about development because maybe in 10 years, the city we see now, will be so much more prominent in which case I will return in a heartbeat. But, till then, there is only five more churches of revelation in Turkey to visit!
Save
Save