Despite my vast knowledge about Turkey, I had never heard of Keslik Monastery until I signed up for a Blue Tour of Cappadocia. The Blue Tour didn't exist on my last visit to the region but its aim is to satisfy repeat visitors, like myself who have already been to all the popular tourist attractions. Keslik Monastery is "off the beaten track" and my collection of guide books at home, hardly mentioned it.
About Keslik Monastery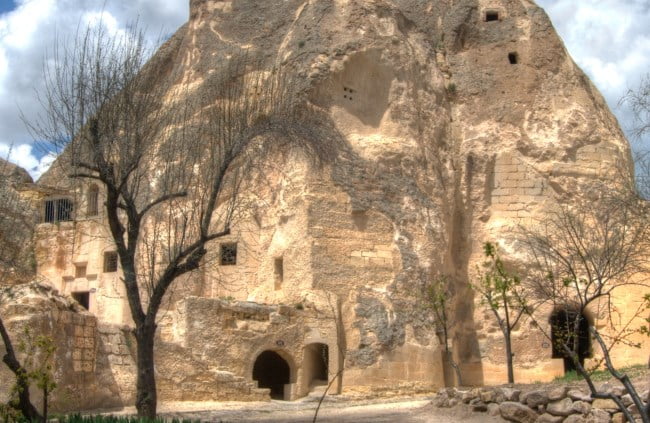 Located close to the old and rather quiet village of Mustafapasa, Keslik Monastery dates from approximately the 7th century to the 13th century and while our tour guide did a marvellous job of telling us about the history of it, I was more gob-smacked by the calming vibes that enveloped around the 14 man-made churches, kitchens, sleeping quarters and hermits cave, that were carved into the rocks by the monks.
To write in a cliché way, I easily imagined the monks living out their lives in areas like the refectory where they sat down at rock carved tables and benches to break bread together.
Albeit the small doors leading into each section, did make me wonder if they were midgets or simply couldn't be bothered to carve into the rock anymore but bending down to enter a room was no big deal, because I felt the vibes of this monastery.
Call me crazy if you want (many people do anyway) and I swear to God that I was not high on any illegal substance but either the non-physical presence of the monks still exists or the monks themselves chose this place for their monastery because it has an incredible purifying feel around it.
Those who are spiritually or religiously in tune will know the feeling I talk about. The rest of you can just carrying on thinking I have lost my mind.
The Intricate Frescoes
Obviously in a monastery, churches play a large role in day-to-day life and in those days, many people couldn't read. This was a problem, because religious leaders wanted people to learn Christianity by reading,  but they easily solved this by painting frescoes on the ceilings and walls that depict scenes from the Bible.
Despite the frescoes of Keslik Monastery suffering wear and tear over the years, they are remarkably visible, thanks to intense and hard work by excavators. This applies especially inside Aziz Stephanos church, which although the frescoes do not depict scenes from the Bible, they represent everyday life of farming and agriculture which has existed in the Cappadocia region for centuries.
Yücel the guide, also said that on occasions, painters of the frescoes would add their own take to emphasise the scene being played out. For example, in one fresco, every character had a halo apart from Judas, therefore enforcing the tale that he was a traitor.
Now as much as I would like to claim expert photography and present you with a wonderful collection of photos showing those frescoes, it turned out my indoor photography skills are not as advanced as I thought they were.So, the next best thing is to improvise.
While I was there, I did the typically tourist thing of buying postcards. Tacky I know but it turned out to be a wise move because I have scanned them and the pictures show perfectly the marvellous frescoes of Keslik Monastery.
1: The Entombment of Isa (The burial of Jesus after his crucification)
2 : Two Apostles
3: Presentation into the Temple
4: The Two Angels
PS : The Monastery itself is a fantastic place to see but I feel my visit was enhanced by the local guide who was a wealth of knowledge, easy to get along with and also has an excellent grasp of the English language.
Image Credits for four frescoes : Tolga Uyar. Name taken from the postcards

Save