I am incredibly grateful for countless travel memories that I can look back on with fondness but one of my favourite is gulet cruising in Turkey. It was a four night, five-day sailing holiday along the Mediterranean coast from Fethiye to Olympus. Choosing to partly detox from an Internet addiction, and relax at the same time, the experience was ten times better than any spa retreat offers.
However, speaking to friends after the event, it seemed that the biggest misconception people have about gulet sailing holidays in Turkey, is that you'll spend all day, every day on the boat being bored, but it is about much more than that. Firstly, if you are a novice to gulet cruising, it helps to understand the unique background, concept and what makes them different from others sailing vessels.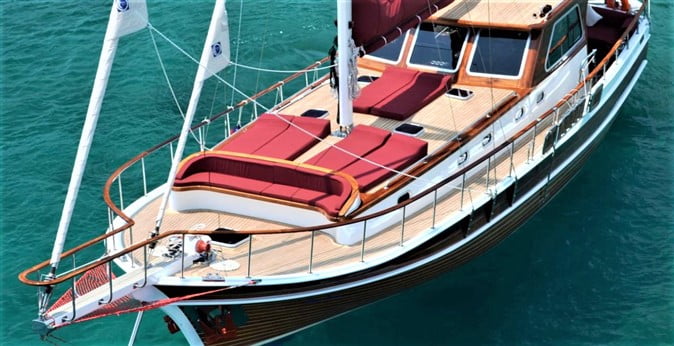 What is a Gulet in Turkey?
When you book gulet sailing holidays in Turkey, you are venturing into an age-old nautical tradition. Gulets are traditional, handcrafted wooden boats with two or three masts. Although other countries such as Italy, Montenegro, and Croatia, use gulets, Turkey has an esteemed and long-established reputation for making gulet boats, especially in Bodrum and Bozburun, two coastal hubs on the west and southwest coast.
Their original use was for sponge diving and fishing, but over the years, the concept has evolved to become overnight floating hotels. Esteemed professionals expertly handcraft each gulet boat with unique design and décor. You can find more information about gulet boats here.
Are Gulets Seaworthy?
Yes, these boats are extremely hardy, and every year during winter, the owners dock into the shipyards for maintenance and upkeep. Gulets are a specialised vessel, and different from a yacht. The latest materials and techniques are used in yacht construction. Hence the industry is always evolving because the primary purpose is sailing long distances, even around the world. Whereas short, coastal cruising is what gulet boats are designed for.
What are Blue Cruises in a Gulet Boat?
Gulet sailing holidays in Turkey focus on the Aegean and Mediterranean coasts, which make up the Turkish Riviera. Within this long stretch of coastline, captains follow defined Blue Cruise routes, with unique attractions and things to do. The Fethiye to Olympus way is one of the most popular, but passengers can also sail to the Greek Islands and back, as another alternative.
Budget travellers can book cabin charter on set Blue Cruise routes of which there are many, or large groups and families can book their private gulet sailing holiday and along with the captain, tailor-make a particular blue cruise route. Are you wandering if blue cruises are appropriate for you or not? Here is what a gulet expert says: https://www.guletexpert.com/what-is-blue-cruise/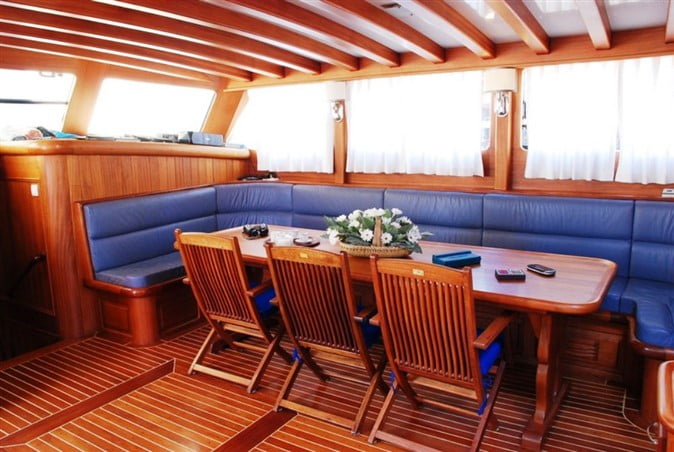 What is it Like Staying on a Gulet Boat?
Most gulet boats range in size from 20 to 30 meters, and each has between 5 to 8 cabins. Within these cabins are double or single beds, an en-suite bathroom and sometimes wardrobes. Most gulets have air conditioning, although the humidity is less at sea than at land, so they are generally not needed, especially when sailing.
Eat your meals on deck, and there is a full crew to help you including the captain, deckhands, and cook. Gulet boats can cruise with wind force or turn on the engine for a faster experience. As with any travel concept, a gulet can be budget and basic or luxurious, in which case, the cabins are larger with exquisite furniture and décor. The sunbathing area is at the front of the boat and inside is a separate seating/bar area.
Places in Turkey to Book Gulet Sailing Holidays
Life on the Turkish Riviera focuses on seaside living, but some places have esteemed reputations for their excellence in the gulet sailing industry. Daily many gulet boats sail out of the harbours in these regions to take passengers on a 3 to 8-day cruise. They include….
Bodrum: The town, a favoured holiday destination for British people as well as Turks, has spearheaded Turkey's tourism drive ever since the 1980s. As well as selling budget holidays, it also offers luxurious experiences leading it to become a favourite destination for rich and wealthy celebrities.
Marmaris: Another destination particularly favoured by the Brits, the harbour and marina area is a hive of everything nautical. Within the town itself, there is not much to do the area, however, is exceptionally scenic, explaining why it is a major sailing hub.
Fethiye: Round the world backpackers completing a tour of Turkey, book up for budget cabin charter Blue cruise routes to Olympus from Fethiye, although the town also offers luxury sailing at a higher cost.
Things to Do on Gulet Sailing Holidays in Turkey
As mentioned before, although the term "sailing holidays" imply, it is all about being at sea, gulet cruising is about a lot more than that, namely the diversity of things to do.
1: Explore the small coastal towns
The Turkish Riviera has many small, coastal towns, each with their characteristics. Gulets dock in either overnight or for the day, giving you time to wander and explore. Kas on the Mediterranean coast is a perfect example because despite embracing modern living, it has kept its authentic atmosphere, making it one of the quaintest places in Turkey.
2: Get to places only accessible by boat
Many uninhabited islands surround Turkey, and some of them such as Gemiler just outside Fethiye are worth exploring. Ruined Christian churches and a fantastic view make it a preferred place at night for boats to drop anchor. Kekova sunken ruins is another area ideally explored by boat for the best view.
3: Sleep on deck
During my blue cruise, I never slept in my cabin. Instead preferring the deck at the front of the boat, I thoroughly enjoyed going to sleep under the stars. There is something peaceful about just listening to the sounds of nature as you drop off and as much as my cabin was comfortable and quiet, I choose to sleep on deck every time.
4: See Caretta Caretta turtles
It is a guaranteed certainty you will see the endangered Caretta turtles if you cruise the Mediterranean coast but in particular, the Simena area. One morning, a small group came swimming around the boat for food and seeing their size, I realised their stamina was strong despite their docile appearance.
5: Gorgeous sunsets
Watching a Turkish sunset dip over the horizon is a favourite evening activity of mine because I am not talking about average sunsets here. The Mediterranean and Aegean coasts, boast of vibrant orange sunsets that are big attractions for tourists, who cannot resist getting their camera out to snap the view.
6: Catch your dinner
Of course, if you do not like fish or seafood, the cook will whip up many alternative dishes, but for fish lovers, part of the thrill is catching your dinner and BBQing it. From sea to plate within 20 minutes. You cannot get any fresher than that!
7: Snorkelling and diving
Most gulet boats have snorkelling equipment on board, which you are welcome to use when they stop for swimming breaks. Alternatively, Turkey is a scuba diving paradise with many underwater wrecks and various sea life. If you spend half a day in any scuba diving town, your boat captain can pre-book lessons for you, whether you are a novice or experienced.
8: Ice-cream deliveries!
In many spots around the coastline where boats dock in for swimming or overnight breaks, floating ice-cream boats offer the perfect refreshment. Pulling alongside the gulet and coming on board with many choices, it is a quirky concept of waiter service.
9: Jet-skis and parasailing
Likewise, anywhere boats gather, jet skis are for hire and passengers can parasail behind a speed boat. Jet skiing attracts adrenaline junkies while paragliding is an alternative bird's eye view of the gorgeous landscape.
10: Visit historical ruins of ancient civilizations
Many Blue Cruise routes on the Aegean and Mediterranean coasts, stop by coastal historical ruins of which Turkey has hundreds. The Med coast was home to the Lycians, who left behind glorious cities such as Patara and Olympus, set in an overgrown forest. Their ancient cities have also sparked an official trekking route, one of the longest in the world taking as much as three months to complete.
11: See the Greek Dodecanese Islands
Although, the most popular routes of gulet sailing holidays in Turkey focus on the Turkish Riviera, mix your holiday with Greek destinations of which, the Dodecanese islands are perfect. 150 of them sit in the south Aegean Sea, just a short distance from Turkey. The two most famous are Kos, and Rhodes, however smaller islands like Simi, are ideal for getting off the beaten track.
Further Reading: If the history of gulet cruising interests you, read about the Fisherman of Halicarnassus, Cevat Sakir Kabaagacli. As well as unintentionally, setting in place the trend for coastal cruising, he made Bodrum, a famous destination of the Turkish Riviera.