On my first visit to Goreme in Cappadocia, Turkey, in November 2009, I was all over the town like a hot rash. The summer was over, but backpackers arriving from Istanbul on the overnight bus overnumbered us. Travellers from all over the world headed there with eager anticipation to see for themselves the fairy chimneys, lunar-like landscape, cave hotels, ancient churches, and a fantastic sunrise view of twenty or more hot air balloons in the sky.
I was in constant awe at strange rock formations that I first spotted while driving into the region. Staying in a cave hotel was also a quirky novelty, and since Goreme was relatively small and I walked most streets in just an afternoon, a comfortable feeling washed over me.
I visited again in 2012 and 2015, and even though the vibes of my first visit wore off, Goreme still felt welcoming and an ideal place for a solo female traveller to feel safe. Unsure whether the number of genuine cave hotels had dwindled, or the resort was more extensive, Goreme seemed more uniformed and not so rustic, but I was in the right place at the right time, with a fuzzy feeling that Goreme was my 2nd home.
About Goreme in Cappadocia
1: Hotels in Goreme
Since Goreme is the tourism capital of Cappadocia, any potential visitor has a wide choice of hotels to choose from, including authentic cave or manmade buildings, with luxury or budget facilities. At the height of summer, though, pre-book your accommodation because Goreme gets busy. If you are reliant on public transport, have a cheap budget and don't seem to mind touristic vibes, Goreme is an excellent place to stay overnight.
2: Restaurants and Nightlife in Goreme
The restaurants in Goreme that I visited were unhygienic or unprofessional. One restaurant, situated on a veranda overlooking the road to the open-air museum, was dirty, and I interrupted the staff from their gossiping to get served.
Another Turkish restaurant pushed me out of the door when I walked in because apparently, the chef and owner had a massive argument, and both had walked out. The quality of food in others was horrendous. It seems that the restaurants that know what they are doing and not winging it are in Urgup town. On the other hand, others disagree with me and say good restaurants do exist.
Also, do not expect booming nightclubs. Goreme is all about sit down dining or cheap food to go. If you hamper after an active night-life with nightclubs, open till 5 a.m., head to Bodrum, Istanbul, Antalya, or other seaside places instead. People travelling with children will find a lack of activities to keep kids entertained.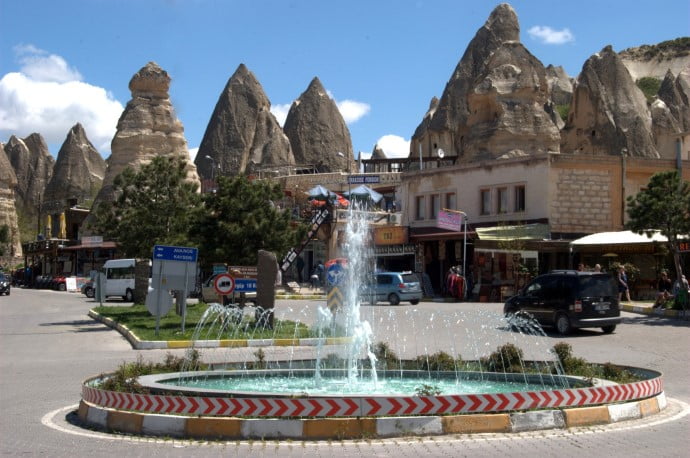 3: Goreme Open Air Museum
The biggest and best attraction in the Cappadocia region is the Goreme open-air museum sitting just outside the centre. This marvellous collection of 14th and 15th-century churches is now an official UNESCO World Heritage site. While you can buy audio guides or read a book about the history, I strongly recommend going around with an authorised local guide. They know the history of each church, what they represented and, more importantly, the meanings behind the biblical frescoes displayed within the churches.
4: Hot Air Balloon Rides
The most popular thing to do is wake up early in the morning for a hot air balloon ride. I will admit, despite having visited Cappadocia on numerous occasions, I have never plucked up the courage to rise that far in the air. I know I am missing an incredible experience, but the fear of heights is too much to ignore. Tickets are costly, but if you have any safety fears, get rid of them. I had a good friend, who has now died but he was a pilot for Royal balloons. The pilots went through extensive training, need a licence, and every morning the aviation authorities checked the windspeeds and conditions. If they don't give the go-ahead, all flights are grounded.
5: Things to Do in Goreme
While the centre of Goreme does not have any attractions itself, the surrounding areas are pretty awesome and things to do include…
For hiking fans, nearby Pigeon and Love Valleys are ideal
3 to 4 hour horse riding treks are popular in the evenings
Visit the town of Avanos to take part in pottery demonstrations
Green / Red / Blue Tours
Local agents sell three types of tours. Green and red tours are ideal for first-time visitors taking you to underground cities and valleys like Ihlara. Aside from that, take lots of photos because describing the landscape of Goreme and Cappadocia to your friends back home is extremely hard to do. They need to see the photographs to believe you. Goreme consistently exceeded my expectations on every return visit, and I have never met anyone who hated the town. So be sure to put it on your bucket list when you visit Cappadocia.
More About Cappadocia
Although Goreme in Cappadocia is an excellent place to visit, the region is much bigger and holds more attractions, things to do, and places to go. Read the Cappadocia travel guide for more suggestions and ideas for your trip itinerary.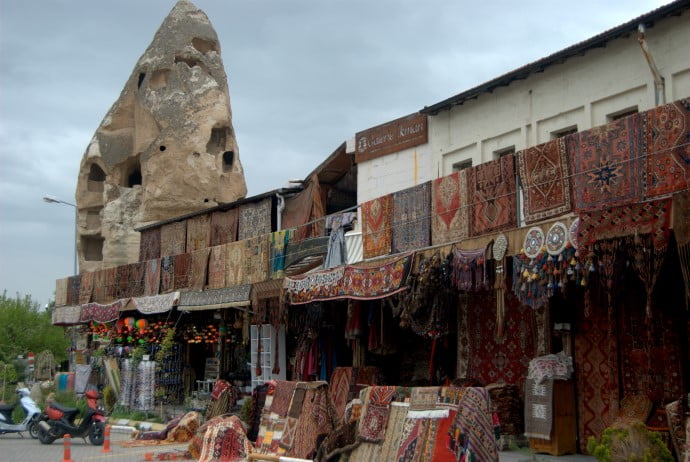 Save
Save