Ah, to see the Ephesus ancient city ruins is to see one of the world's most significant historical sites. The colourful timeline of Turkey's history means the country is awash with historical sites dating from many civilizations. Out of all them, Ephesus is probably the most well-known, attracting thousands of visitors every day. Ephesus ancient city is to Turkey what the pyramids are to Egypt or the Colosseum to Rome, and every year, an average of 3 million people walk through its gates.
As a pinnacle point of early Christian heritage, Ephesus was also home to the famous Temple of Artemis, one of the world's seven ancient wonders. Stories of Saint John and Paul and the Virgin Mary also exist as they spent time in the city. Indeed, it is a marvellous open-air museum, and the extensive excavation work carried out on Ephesus must be admired.
Ephesus city has an exciting and highly diverse timeline, but historians have dated the first construction and signs of habitation from the 10th century BC. However, its most prominent era was when it came under the control of Rome in 129 BC. Ephesus was a thriving sea trade port and the most important centre of excellence for politics and philosophers by this time.
Visiting Ephesus Ancient City Ruins
Sitting on the Aegean coast of Turkey in Asia Minor, near Kusadasi and Selcuk in the Izmir region, this was my third time seeing it. I first visited Ephesus 13 years earlier. I was a newbie expat in Turkey and more preoccupied with adapting to daily life here than concentrating on the history of a Greco-Roman city that had fallen nearly roughly 12 centuries before. The fact it was one of Seven Churches of Revelation did not faze me either since I had long given up on religion and Bible studies. 4 years later, I went to Ephesus again with a friend. While I felt a little more appreciation, it was not until my third time there that I threw myself into the ambience and vibes.
The downside of walking through archaeological Ephesus ancient city is the crowds. Some of the world's largest cruise liners dock into the nearby Kusadasi port to take passengers to Ephesus. When combined with 42 seater tour buses from all surrounding holiday resorts, the result is masses of people wandering about in awe, paying no attention to where they are going or who they bump into. The urges to photobomb are too great but if you don't like crowds or hundreds of people in your holiday photos, go to Ephesus early morning as soon as they open at 08.00 am.
The other downside is that independent travellers must walk Ephesus twice, and this is not a gentle stroll in the midday heat. Moreover, the walking route begins at the upper gymnasium bath and ends at Marble Street or vice versa. It is not a complete circle, so it poses a problem. Alternatively, if you hook up with an Ephesus guide (which I strongly recommend), they arrange for the transport to meet you at the other end.
Exciting Highlights of Ephesus City and Ancient Ruins
A signpost briefly describes every excavated structure, along with relevant dates and some impressive landmarks include….
Public Latrines: The roman public latrines at Ephesus sit on three sides of a small courtyard, so doing business became a social affair. Guides say the wealthy used to get their slaves to sit down and warm up the restroom for them! At one stage, visitors could sit down on them, but they have now been cordoned off.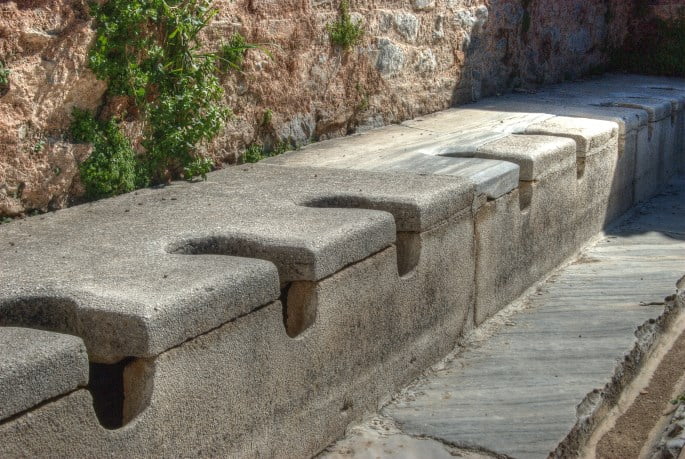 Nike Goddess Statue: The monument is not a large size but a kind of novelty for those of us who grew up thinking Nike was just a brand of sports shoes! It turns out she was the Roman winged goddess of victory, and these are the remains Ephesus citizens used to worship.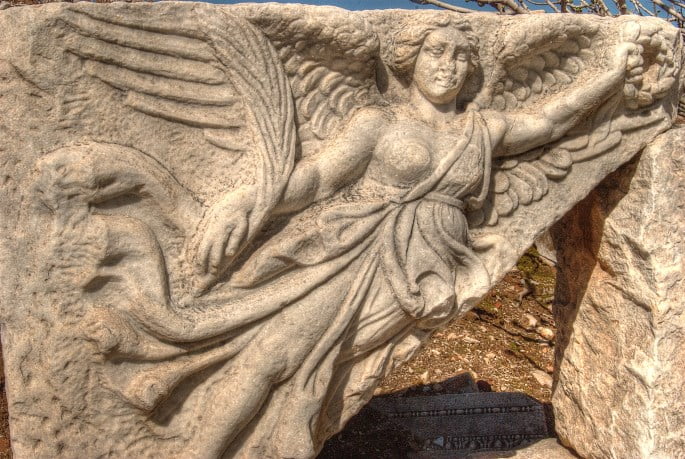 The Footprint: Another quirky novelty of the great site of Ephesus because this is not just any old engraved footprint. It showed the way to the whorehouse, or as the Romans said, "the bordello", meaning the "love house." Of course, we shouldn't be surprised since it is the world's oldest profession.
Marble Street and Commercial Agora: To see the Marble Street of Ephesus from this view, go to Roman Terraced houses' exit. The road led to the grand theatre and was also the primary path for ceremonial and religious purposes. While walking down, also look left and right to see temple and statue remains. If you turn right from the terrace houses, you will also arrive at the commercial agora.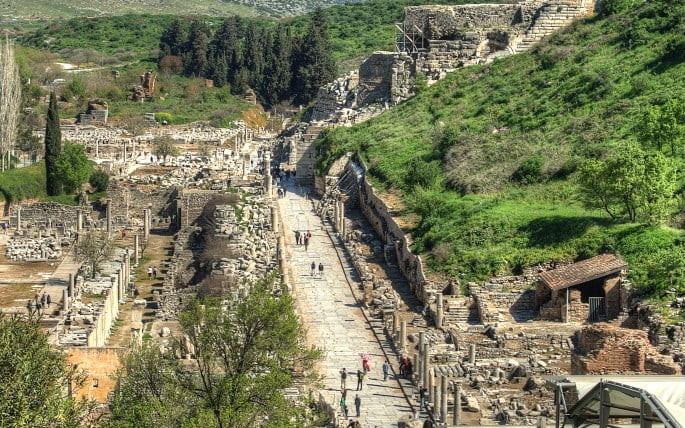 Bouleuterion or Odeon: When I first went to Ephesus city, I was told the great Grand theatre seating 24,000 people would be the highlight. Unfortunately, my knowledge of history and Roman living was nothing, so I expressed disgust at the small, half-circle collection of stones sitting next to the Royal walk. It turns out I was looking at the Odeon, used by the wealthy and political citizens to discuss the future of Ephesus.
Temple of Hadrian: Constructed in roughly 138AD, the murals on the temple of Hadrian tell the story of Ephesus city, including how Androklos, son of Athenian king Kadros, founded it after receiving a message from the Greek Delphi oracle.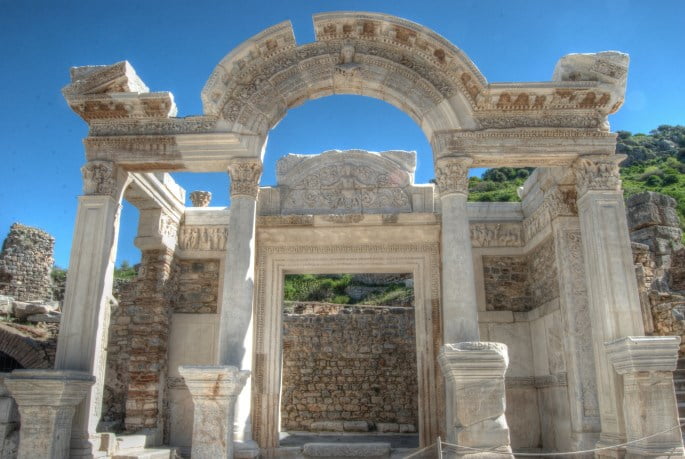 My original plan was to write about the UNESCO Ephesus Museum in one article, but this did not do it justice, so I have taken the most prominent and magnificent structures and dedicated an article to each at the following links.
The Ancient Library of Celsius
It held 12,000 scrolls and was the ancient world's most extensive Roman-Greek collection of cultural literature. Explaining the important history of the great Celsius library is straightforward. It was built in 135 AD by emperor Gaius Julius Aquila who wanted to honour his father; at that time, a general Roman Empire governor for the province of Asia minor and aptly called Celsius, hence the library name. More here.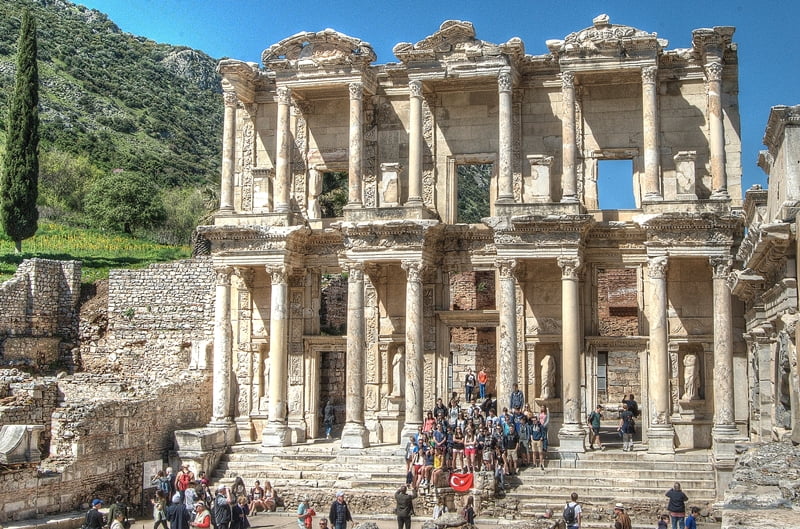 Ruins of the Great Theatre of Ephesus City
Continue walking the path to arrive at this building, where gladiators fought and died, and social functions were the highlight of culture in Ephesus. Estimations are that it could seat 24,000 Roman Empire citizens, roughly half the amount of today's modern football stadiums. This seems unbelievable since the Roman Empire didn't have the modern technology, we do but look down on the theatre from the top steps, and the important size becomes more prominent. The Bible also says in early Christianity, this was where the famous Artemis riot took place. Read more here.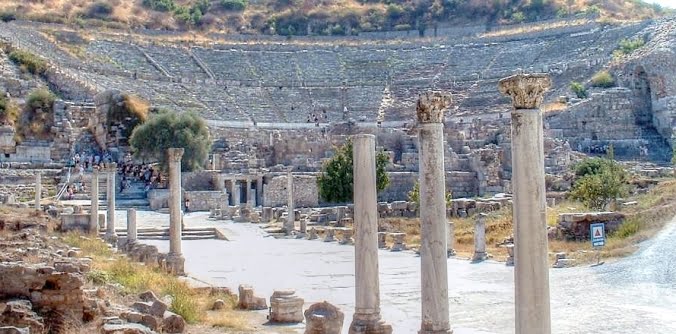 Roman Terrace City Houses
When at UNESCO Ephesus, pay the extra entrance fee to see six houses with marvellously intact ancient mosaics. Affluent citizens constructed most 1st century Roman houses. Such was their important wealth; they could afford luxuries such as underfloor heating, clean water, and lavatories, inventions which then were not available to the public masses. Find out more.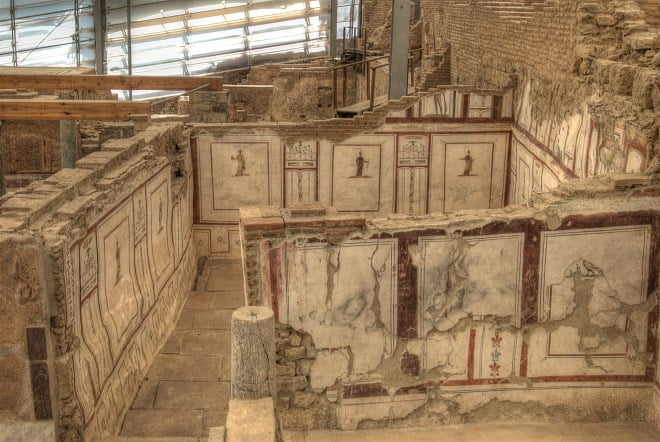 Cats of Ephesus Turkey
Lastly, with its label as an ancient city, it would be easy to assume Ephesus has no citizens, but it does. Cats! Loads of them. Sitting like kings and queens on ancient stones with Roman inscriptions, the feline creatures calmly spend the day sleeping while hundreds of people pass them by. I am not sure where they are getting their food sources from because there is no canteen within the boundaries of Ephesus, but something keeps them coming back. Do they know something we don't?
Should you go on a Guided Tour of Ephesus City?
The ancient city of Ephesus does not let unqualified guides in who talk crap. Licensed tour guides in Turkey have studied and sat exams; therefore, their knowledge is valuable. As you walk around Ephesus city with them, the information enhances your time and makes it more interesting, especially if your knowledge of history is limited.
If you don't like guided tours, buy the audio guides sold at the entrance to Ephesus city or invest in a good book. Do not go into Ephesus blind with no knowledge of what life was like for Ephesus citizens during Roman rule, the most flourishing time for the city. While at Ephesus in Izmir, also put two other Christian heritage sites on your list to visit. They are the Virgin Mary's house which is now run by the Catholic Church, and the Basilica of Saint John.
[blog_posts items="2″ orderby="rand" cat="aegean-coast"]
Save