You can call me naive but up until last week, I did not know about ear cropping of dogs. I left the Black sea region of Turkey thinking it was an age-old tradition specific to that area. However, research on the internet revealed it is a worldwide issue and one that preyed on my mind deeply.
What prompted my interest in the subject? A dog called Karabas
I met him in the mountainous and remote region of Maçahel. He is a big dog, not over friendly but nothing to be scared off. His fur was thick and he was bright and alert. I took to him straight away, stroking him with unlimited affection, but he was more interested in the food his owner was dishing out.
I kept looking at Karabas because something was just not right. I pondered for a few minutes and then realised. WTF!  He had no ears. The inner lobes were still there resembling an ugly mess but nothing else was.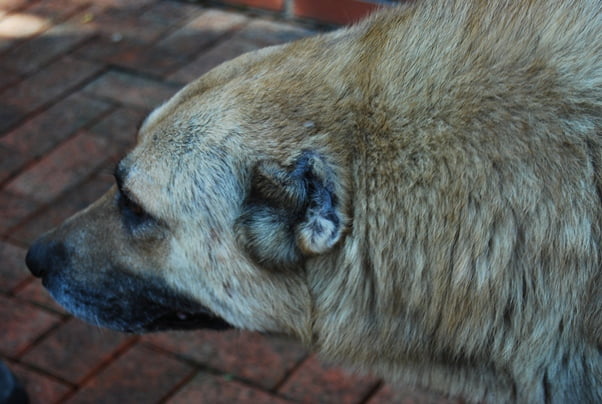 We asked his owner what happened and the simple response was that he cut them off. Inside my head, angry thoughts were running around of "why in the hell would you do that?", however I politely smiled and asked. The answer was simple.
Karabas is a working dog that roams mountains, full of wild animals and potential fights.  A bear will rip his ears off with huge force and in quick time, causing unlimited injury.   Sometimes bears also wander into the local villages looking for food and dogs are on guard.
All Over The World
When I returned to the Aegean coast,I learned many people already knew about this age-old tradition often happening in small villages of Turkey. I needed to know more and read on the internet that it is infact, a world wide tradition.  Now banned by many countries including Australia and the UK, the surprise comes to learn that in the United States it is not illegal.
All over the world, reasons for ear cropping a dog have varied from…
Preventing injury in working dogs
Cosmetic surgery for dog shows and performances
Limiting injury in organized fights with other dogs
At the same time as cropping ears, sometimes docking of the tail also takes place.
Ear Cropping Of Dogs in Turkey
There is no law in Turkey about ear cropping or docking of the tail. However, I had to stop worrying about Karabas. He looked in good health and was alert and active. I felt no threat from him and he seemed devoted to his owner. At the end of the day, Turkey has far bigger problems when it comes to the welfare of dogs.
On the "supposed civilized" south and west coast, owners often dump dogs; they roam the streets in packs looking for food out of dustbins. On the odd occasion, I spot a dog with nasty diseases like mange. In some areas, people have been known to poison dogs with laced meat to get rid of them.
Karabas was happy and had an owner who loved him and thought he was doing right by the dog.  So on this occasion, I have to turn a blind eye.
Sometimes you have to ignore traditions of your adopted country, no matter how wrong  you think they are
Reader's questions: What are your thoughts on the ear cropping of dogs?
Save