I walked down 55 stone steps, sensing dampness from water as I reached the bottom and the Basilica cistern. Sitting in Istanbul's touristic district near the Hagia Sophia and Blue Mosque, it had been on my bucket list for months. The only sounds were whispers from tourists and odd drip of water. A vendor of souvenir stands in the far-left corner beckoned me over. I could dress up as an Ottoman princess for a small fee and go home with a photo souvenir. Disapproving looks on my face showed I felt this tacky trade unsuitable for a building and museum in Istanbul nearly 1500 years old.
About the Basilica Cistern of Istanbul
Also known as Yerebatan Sarayi or Byzantine Sunken Palace of Istanbul, man-made platforms took me from the entrance and further into the cistern. To my left and right were tall marble columns; lit with floodlights while fish, bigger than my hand, followed the path in shallow waters below. Perhaps they have learned to associate humans with food.
Istanbul Byzantine Basilica was built by Justinian I, the Roman Emperor, and stretches for 140 metres and is 70 metres wide. Istanbul historians say that in 527, seven thousand slaves built the Basilica cistern covering 9800 square meters, with 336 columns and the capacity to hold 100,000 tons of water that made its way to the palace and citizens of Constantinople (Former Istanbul.)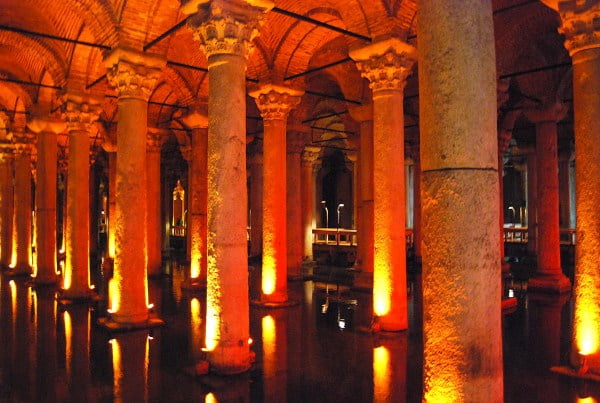 Impressive, but as I have learned with historical structures in Istanbul and the rest of Turkey, the Ottoman Empire had more interest in lathering themselves with riches. The city cistern fell into a bad state, used by locals who dipped buckets into wells to fetch water up with occasional fish.
Then In the 16th century, a Dutch traveller named P.Gyllius spread the word of the ancient Istanbul cistern with water still in it to the western world, which perhaps convinced the Ottoman Empire they had something worth saving. Restoration work over hundreds of years ensures it remains a historical marvel. But did you know Mark Twain, James Bond, and Medusa all connect to the Basilica Cistern and Istanbul?
Mark Twain in the Basilica Cistern
In his famous book about travel, "Innocents Abroad," Mark Twain does not paint a pretty picture of his time in the large Constantinople city. Instead, he describes the Grand Bazaar as "a monstrous hive of little shops" and the Hagia Sophia as "the rustiest old barn in heathendom." He was delighted with the underground Yerebatan cistern, though, calling it the Thousand and One Columns.
"You are forty feet underground and amid a perfect wilderness of tall, slender, granite columns of Byzantine architecture. Stand where you would, or change your position as often as you pleased, you were always a center from which radiated a dozen long archways and colonnades that lost themselves in the distance and sombre twilight of the place."
The Heads of Medusa
Walk to the back of the Basilica cistern to find two columns held up by heads of Medusa. One lays upside down, and the other lies on its side. No one is sure of reasons for this but, a favoured suggestion is that anyone who looked would turn to stone. The two roman Medusa statues are supports under two columns at the cistern's northwest corner.
Basilica Cistern and James Bond
Much before my time, but the 1963 film from Russia with Love shows James Bond sailing through the Basilica underground cistern columns to reach a secret door. There are no signs of amazement or appreciation that he was in a famous structure of Istanbul, but then again, he did have naughty and devious spies to catch.
Further Reading
The Basilica cistern is located in Istanbul's Sultanahmet area, near the great Hagia Sophia and Blue Mosque, and is an attraction included in the Istanbul e-tourist pass. The ticket, which can be used for a day or more, gets savings and guided tours at many museums and attractions. Find out more here. Basilica cistern is closed for renovation, but check their official website for updates of when they will open to the public and visit times. You might also like to read this article guide to all the Byzantine and Ottoman attractions in Istanbul's Sultanahmet district, including Topkapi Palace, a favourite place for many tourists.