I have previously written about Avanos. It is a small town in the Cappadocia region of Turkey and on my first visit, I was not impressed. I wrote…
"Avanos reminded me of the Wild West films showing deserted streets while playing an eerie whistling tune.
I looked up and down the street, completed a full 360 degree turn and the only sign of breathing movement was a stray dog searching through the bins for scrap food. It is a ghost town that seems to have been forgotten and left off the map".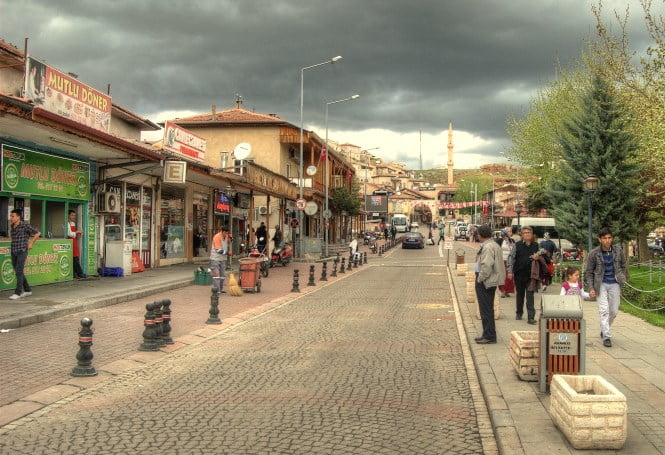 A good friend said my disappointment was probably because I went in November and I should revisit the town during summer. So at the beginning of May, I planned a return trip to give Avanos a second chance. It was 5 years since my last visit and I was eager to see what had changed.
Return to Avanos in Cappadocia
I had booked my own personal driver and guide  and this was a wise move since the skies were dark and threatened rain at every opportunity. He parked on the opposite side of the famous Red River of Avanos and to get to the main town, we walked past a dramatic middle-aged woman in an elaborate blue dress posing like an eccentric swimsuit model on the pier.
Thinking I had walked into a town of loonies, it turns out, her finance was standing a couple of metres away, and they were due to have their sickly luv-photos taken on one of the new gondola rides that was not there on my last visit.
The wind however, had disrupted their plans and also made me feel slightly apprehensive as I walked across the long suspension bridge that was swinging dramatically thanks to the huge number of people walking on it. (It was May Day in Turkey, so a lot of people were off work.)
I recognised the large mosque sitting at the edge of the river and we walked around a few more streets but frankly, I didn't feel any different. Yes, there were definitely more people around but the vibes and atmosphere were as just as disappointing as they were on my first visit. Now maybe I am a travel snob because there is nothing majorly wrong with Avanos but frankly there are only two reasons to visit.
Pottery workshops and a freakish hair museum!
Pottery Demonstrations in the Workshops of Avanos
I mentioned the Red river at the beginning of the article, which is aptly named because it gives up a huge amount of red clay. For centuries, locals have taken this clay and using the traditional old pottery wheels, made various items to be shipped all over Turkey including wine jugs, cooking pots and since the era when Turkey embraced tourism, souvenirs.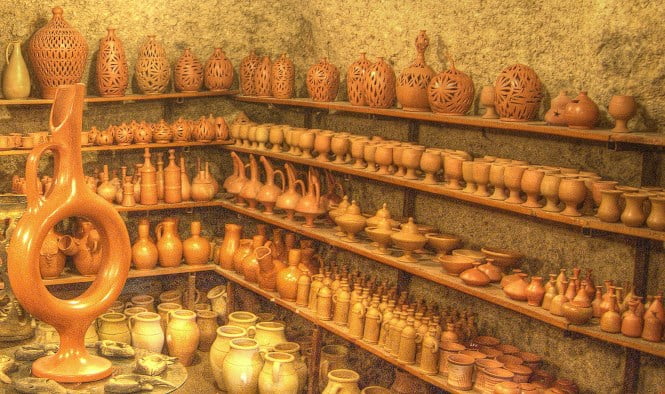 On my last visit, I sat down at a pottery wheel and gave it a go. I didn't craft any masterpieces and it is unlikely that you will, but I recommend you do the same. Be under no illusions, the pottery demonstrations are purely a free gimmick to get you to buy souvenirs.
Buy if you want, but otherwise pay attention to the speed and perfection when the pottery craftsmen sit down to show you how it is done. The effortless method and intricate details are impressive results of creativity at its best. On this visit, I took another chance to watch one of these craftsmen. He was happily spinning his wheel, while crafting his pottery piece, answering questions, and welcoming new customers, all at the same time!
I was so eager to show his agility on camera and whipped out my iPad for a video recording. Unfortunately, the beginning of the video when he takes his lump of clay and starts crafting resembled something similar to what you would see in a porn film so in the interests of family friendly content, I am not showing the video on here!
Chez Galip Hair Museum of Avanos
For many years, I have read about the Hair Museum of Avanos. To me the idea is extremely freakish and I compared it to a mass killer collecting personal items from each of his female victims but apparently the museum was started by a love-sick local and pottery master called Chez Galip, who was heartbroken when the woman he loved left town, so he took a lock of her hair. (No idea if this is true)
Still I wanted to see it and entering a local pottery shop, we were directed along some extremely narrow steps into a basement area. From there, the ceiling and walls of the long room are covered with pieces of hair. My estimation is that there are 30,000, if not more, pieces of hair in that room! Each piece of hair, has paper attached to it, with the name of the owner, their hometown and date of visit. On some pieces, there is also a small passport picture. I saw blond, brunette and even green hair.
It is a great gimmick to get people into the shop, even if the original idea for starting it was the pain and heartache of love. However, I just can't get the image out of my head comparing it to a scene from Silence of the Lambs! For photos, look at the website for the Hair Museum and also the pottery work of Chez Galip. The bloke is a true master at work despite his obsession for hair!
So anyway, go to Avanos for the day. Explore the town, take part in a pottery demonstration, visit the weird and absurd hair museum, take a gondola ride on the Red River and then leave town. There are bigger and better things to be seen in Cappadocia.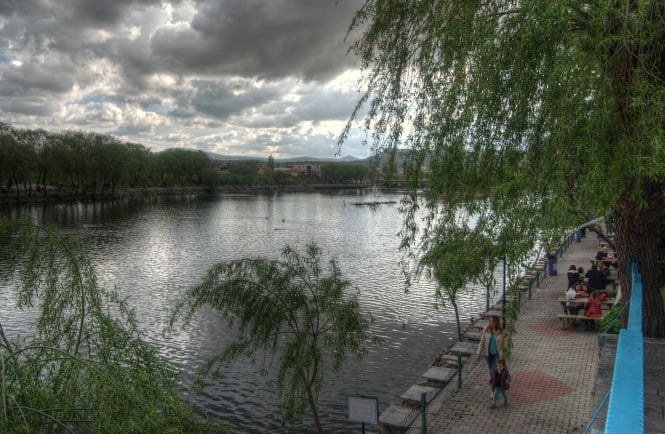 Save