There is one benefit of attending  tours with Turkish people. They have a complete disregard for  timed schedules and planned events. While this may infuriate those in the western world, who live every waking moment according to a diary, I enjoy it because the disruption leads way to surprising events, the chance to meet new people and even more of an insight into Turkish village culture.
The Turkish Village of Ani
On this particular morning, we headed to the outskirts of Kars city to visit the ruins of Ani, just next to the border with Armenia. Everything had gone to plan but it was a Friday and the holy day for Muslims, so the Turks were keen to scour the area and find a local mosque in time for mid-day prayers.
We found ourselves in the small village of Ani, and while the Turks were duly washing themselves ready to enter the mosque, I occupied my time by chasing baby ducks around a field and cussing about the copious amounts of cow shit, that I managed to avoid on all occasions apart from one.
Our tour leader was not a devout Muslim, choosing instead to sit outside the mosque. As it was the holy day, we both knew that it would be a long prayer session, and a walk around the village would make our time go quicker. We did not get far; in fact, the first place we wandered into was someone's yard. To be fair, the markings and boundaries of the yard were non-existent and we did not realize that we had wandered off public pathways.
At the side of the large dusty courtyard, were high piles of Tezek; an age old tradition of drying cow shit and using it as a fuel source. Hey, do not knock its free! Noisy Geese were running around in every direction, maybe apprehensive that the goose, picked up by a local woman could actually be tonight's dinner.
Turkish Village Culture
It was only a matter of minutes before we saw two local females headed towards us. I was unsure of what their reaction was going to be. My normal stamping ground in Turkey is the south and west coast and so far, the north east, had proved to be completely different to any experiences from my past. Their warm introduction just reinforced my belief that Turkey has the most friendliest and hospitable people that I have ever known.
Refreshing glasses of home-made Aryan were given on a tray, followed by an offer to relax in their house. I sadly had to decline this offer knowing beyond any doubt that taking off my shoes to enter the house, would result in a dreadful smell resembling a dead animal. Therefore, we stayed in the courtyard and set about getting to know each other, both parties curious about the lives of the strangers they had met.
The Women's Role
Apart from the tour guide, everyone in the courtyard was a woman; the local men were in the mosque. Times soon came for them to pile out the mosque en mass and one old man joined our conversation, stressing his frustration about his daughter. He had sent her to school to learn English, confident in the knowledge that this would improve her future. Sadly, she had dropped out at 15 and returned to daily life in the village, showing no interest in education.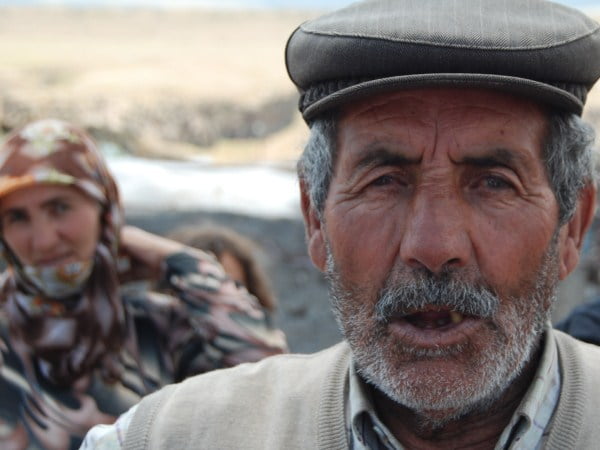 Despite confirmation from the tour guide that her father was right, she showed no desire to pursue education or more specifically speak English. It is easy to assume that in small and local villages like Anikoy that the male counterparts hold women back, destining them for a life of child bearing and household chores.
However, in certain cases like this, the female has a chance

The women and female teenagers showed no signs of oppression by men or disappointment in the life they lead. They were happy people and more than pleased to meet strangers who had wandered into their village. I do hope however, that the girl decides to return to school and learn English. The wealth of knowledge and enjoyment that she will gain from learning a second language can still be combined with a domesticated life.
Thousands of women do it all over the world, why can't she?
[wp_geo_map]
Save