For the thousands of people every year who head to the impressive city of Istanbul, the first question that is often on their mind is
"Where are the happening places to head to?"
This slang term is also always at the front of my mind, no matter where in Turkey I travel. I want to know where the locals hang out. I want to observe a busy and vibrant atmosphere that gives me a great insight into the place that I am in. I want to know the places that are significant in peoples lives
When it comes to Istanbul, the answer to the question will more than likely be one of two choices.
People will tell you to either head to Istiklal Avenue that is a bustling street of shops, restaurants, bars and historical buildings. It is quite possible to spend more than a day exploring this avenue and all the quirky areas, lined up down the side streets. If there is any demonstration that is going to happen in Istanbul, then it will more than likely start from this avenue.
The second answer will be Galata Bridge spanning over the golden horn.
Personally, I like Galata Bridge
You can see the famous bridge in many photographs of travel magazines, hundreds of fishermen  casting their rods over the side.  One of numerous bridges over the golden horn, it has a colorful history, rebuilt five times in five different locations.
Featured in numerous travel tales including Mark Twain's book "The Innocents Abroad", its history lays as a connection between two different civilizations. Look east towards Asia or look west towards Europe and remember the saying that it was the passageway to the Old City of Constantinople.
So why am I obsessed by Galata Bridge?
Simply, because it has addictive vibes and they remind you that you are standing in one of the greatest cities of the world. It is a bustling place full of traffic and people going about their business. No one will notice you on the bridge; you can simply blend in and observe daily Turkish life in Istanbul. It is the hub of the golden horn.
Seven Reasons Why I love Galata Bridge
One: The fishermen are quite friendly. Perhaps they have got used to tourists snapping cameras away in their faces.  The men stand there day in and day out, in the rain and in the sun. Every soon often, they throw fish in the air and birds swoop in to catch the fish before it hits the ground. Observing the fishermen is a delight in itself and it could quite easily keep me occupied for hours.
Two: Galata Bridge is where the locals head. They eat cheap food, smoke nargile pipes, catch the ferryboats and enjoy a day out with their families. For me, it is a great opportunity to experience true Turkish life in a big city. I don't get any added extras just because I am a tourist. What I see is what I get.
Three: There is an abundance of tasty and cheap Turkish street food, from the hot corn on the cob to the 5-lira fish sandwiches.   Forget the five star restaurants, because the food sold around the bridge is just as good as any gourmet meal. If street food is not your idea of great cuisine; restaurants under the bridge serve a variety of dishes including the speciality of fresh fish caught daily.
Four: I love smoking a nargile pipe and sipping on a nice cold glass of beer. The restaurants under the bridge are the perfect place to do this. I just relax and chill out.
Five: I can cruise the golden horn section of the Bosphorus for just 12 lira by catching the ferryboats here.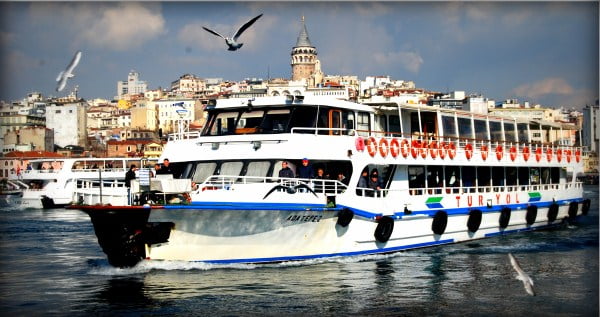 Six: The bridge is close to other sites to see such as Galata tower at one end and the spice market at the other. Chances are that if you are sightseeing around Istanbul, you will end up crossing the bridge at one time or another.
Seven: The Bridge serves as a good transport-starting place to other areas lying off the golden horn such as Uskadar and Ortakoy. Ferryboats leave from the side of the bridge to a variety of places and day time plans when I  return to Istanbul, will all start at the bridge.
Maybe one day, my obsession with the bridge will simmer down however until then, every time I visit Istanbul, I will return simply to latch onto the flurry of addictive vibes that surround it.
Readers Question: Do you agree that Galata Bridge is the first place that people should head to when they visit Istanbul?
[wp_geo_map]
Save
You may also like to read…
Hi. I'm Natalie Sayin, a freelance travel blogger and writer specializing in the country of Turkey. I love hot summer days, historical sites and coffee. This blog is my writing portfolio and journal about life in Turkey.
Read my story here.